Chelsea Clinton

: Chelsea Clinton, daughter of former

US president

Bill Clinton

, has married Marc Mezvinsky, an

investment banker

at 3G Capital Management, on Saturday, July 31, 2010 in Rhinebeck, New York. (AP Photo)

According to reports, the estimated cost for her wedding hit a whopping 3 million mark.

Reports also suggest, her gown by Vera Wang is for $20,000 and so is her wedding cake by Sylvia Weinstock. The

flower decorations

are for $250,000.

Here's a look at other lavish weddings that have happened in the past...




Ash-Abhi: When the World's Most Beautiful woman Aishwarya Rai announced her decision to wed Bollywood's Most eligible bachelor Abhishek Bachchan people were expecting a lavish wedding and they were not disappointed. Big B, Jaya Bachchan sent invitation cards to the who's who of Bollywood, business world and leaders. Aishwarya wore a traditional saree on her

wedding day

. Celebrations were held over three-four days and on the D-Day there was a gamut of people who wanted a glimpse of the groom and his to be wife. The wedding made headlines in almost all TV channels and leading newspapers.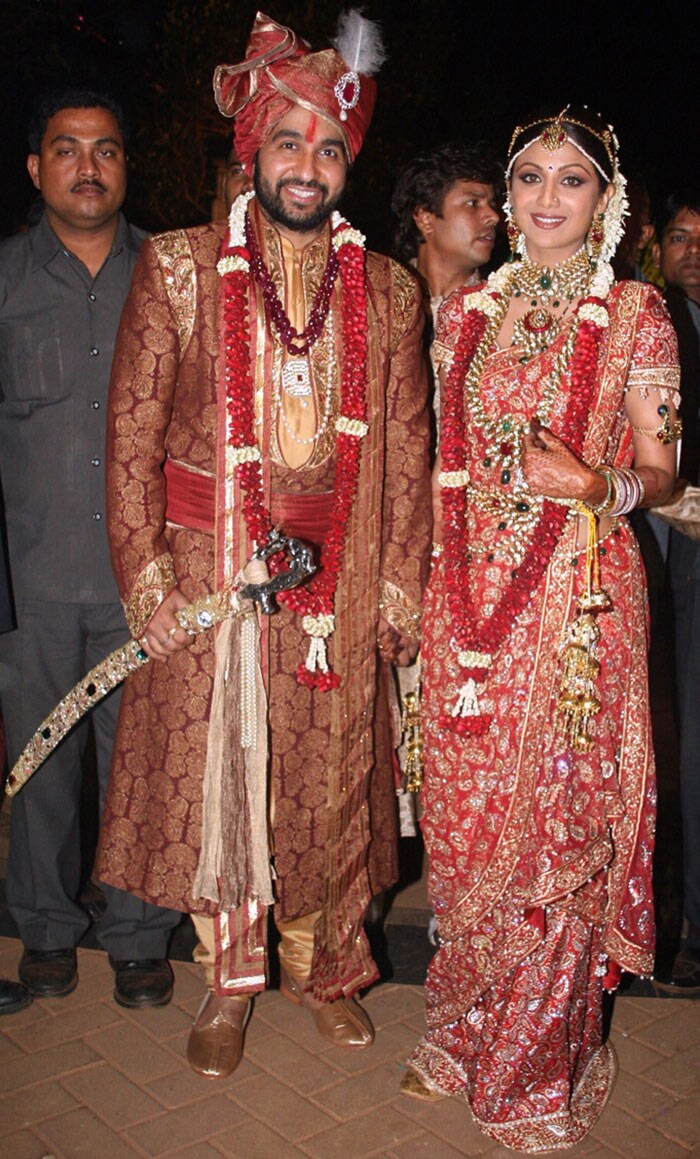 Shilpa Shetty: The who's who of Bollywood and eminent personalities from the world of fashion, cricket and politics attended the wedding of Shilpa Shetty with her London-based businessman Raj Kundra.

Shilpa married Raj in a "fairy-tale wedding" at a glittering ceremony in Khandala, a beautiful hill station in Mumbai on November 22, 2009. The wedding was a private affair but the couple hosted a grand reception in Mumbai for her Bollywood friends which included Amitabh Bachchan, Shah Rukh Khan, Aishwarya Rai Bachchan, Hrithik Roshan, Kangana Ranaut, Karan Johar, among many others. Besides them Union Civil Aviation Minister Praful Patel, liquor baron Vijay Mallya, BCCI vice-president Lalit Modi were also seen among other guests at the reception.

In fact Shilpa's sister Shamita Shetty, who was in the third edition of TV reality show Big Boss, withdrew herslef from the show for the wedding. Shilpa wore a golden Tarun Tahiliani gown for her reception.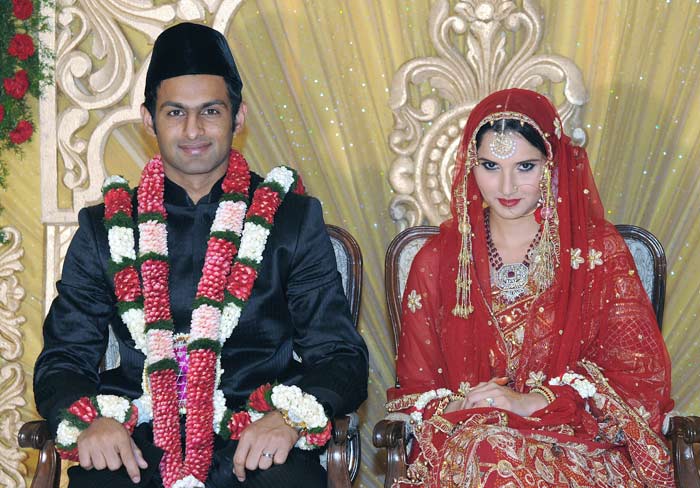 Sania Mirza: When India's tennis star Sania Mirza tied the knot with Pakistani cricketer Shoaib Mallik, it was an affair to remember. The wedding took place at Hotel Taj Krishna in Hyderabad. The mehendi and the sangeet ceremony followed later. The reception party was held both in Hyderabad and in Pakistan.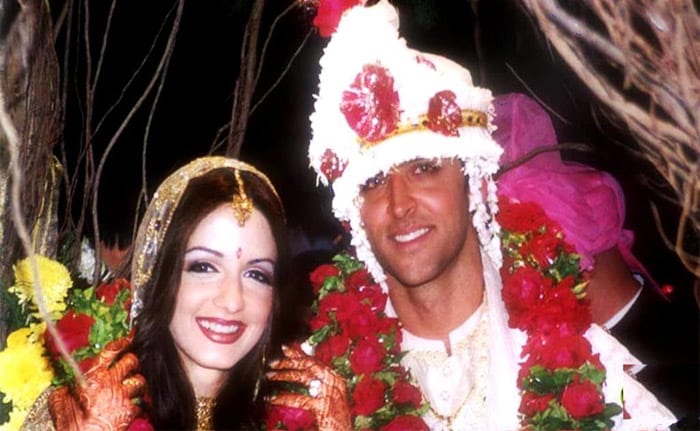 Hrithik Roshan: Hrithik Roshan married his childhood sweetheart Suzanne Khan, daughter of Sanjay Khan on 20 Dec 2000. The wedding ceremony taken place at heavily guarded Golden Palms

Resort and Spa

, arround 22 kms away on the Bangalore-Pune highway. The marriage ceremony was done according to Hindu and Muslim rituals. The wedding was a private ceromany restricted to very few invited guests which just includes their relatives and closest friends of two families. Among them were Rishi Kapoor Randhir Kapoor, Jeetendra, Dimple Kapadia with daughter Rinke, Yukta Mookhey, the Soorna brothers,Yash Chopra's son Uday Chopra , Adarsh Gill, Kunal Kapoor, designer Anna Singh, Farah Khan and others.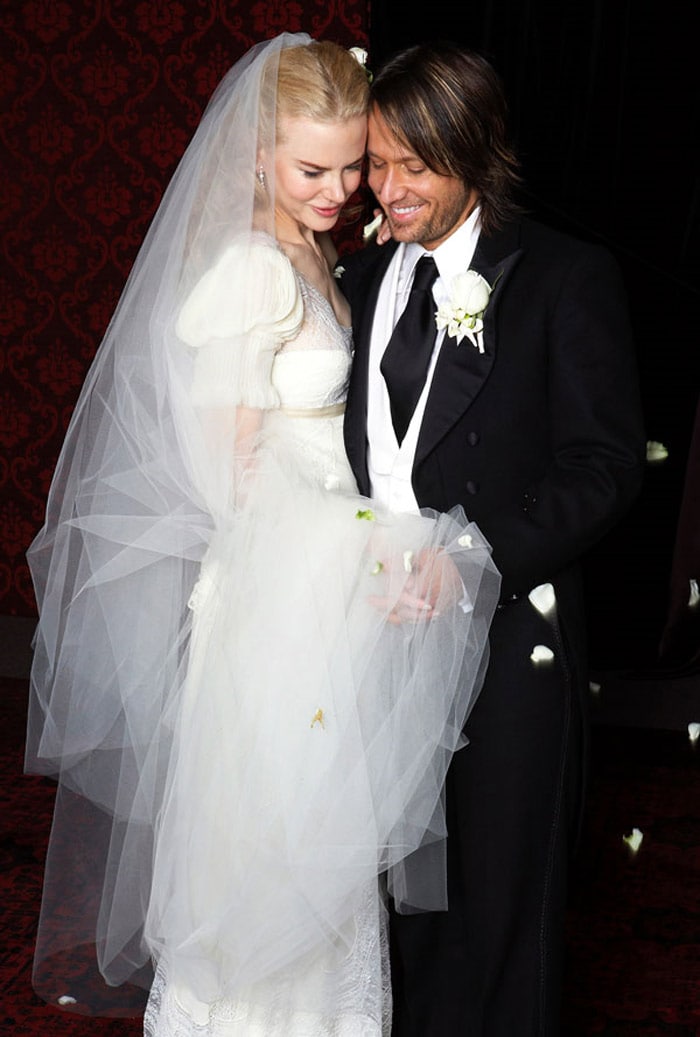 Nicole Kidman & Keith Urban: Actress Nicole Kidman tied the knot with country star Keith Urban in June 2006 in Sydney at the Cardinal Cerretti Chapel, which was decorated with hundreds of candles and red flowers. Nicole wore a Nicolas Ghesquiere for Balenciaga gown and veil and carried a white

rose bouquet

. The who's who of Hollywood was present at the wedding including Naomi Watts, Russell Crowe, Hugh Jackman and billionaire Rupert Murdoch.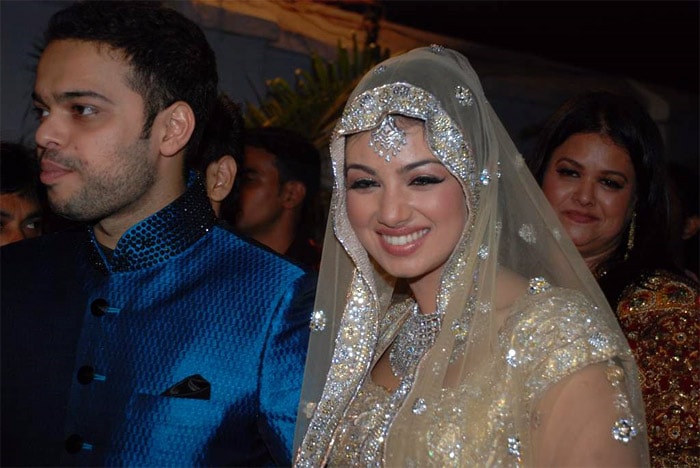 Ayesha Takia: Ayesha Takia married her longtime boyfriend Farhan Azmi last year. The reception party was a lavish affair and was attended by Abhishek Bachchan, Sunil Shetty, Dino Morea, Raj Babbar and many other celebrities.




Virender Sehwag: Cricketer Virender Sehwag had a grand wedding in New Delhi. All the big names from the world of cricket had attended the function.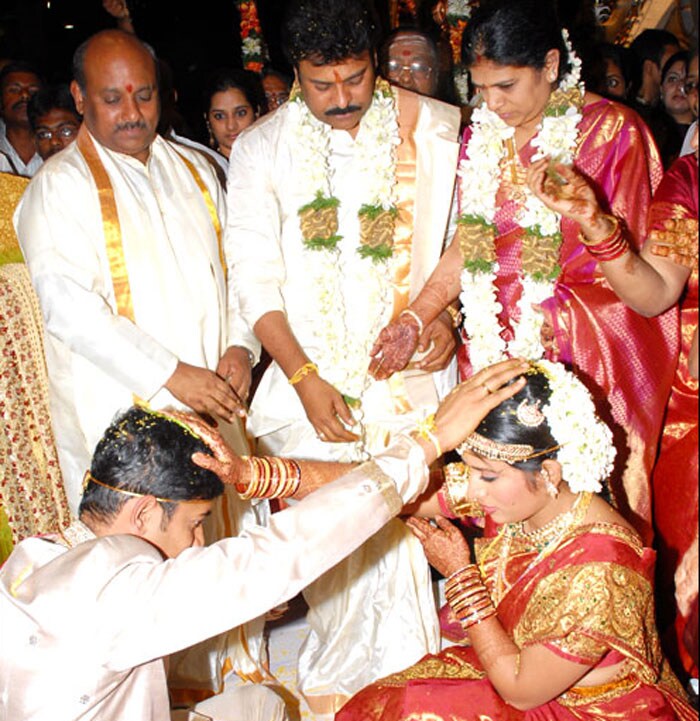 Chiranjeevi daughter: Actor Chiranjeevi's daughter Sushmitha got married to to Vishnu Prasad in 2006. Their wedding was a grand affair and was by almost all top film celebrities and top politicians. Rajnikanth, Vikram and Sarath Kumar from Chennai graced the occasion. The Telugu

film heroes

who attended this function included ANR, Krishna, Mohan Babu, Bala Krishna, Nagarjuna, Venkatesh, Pawan Kalyan, Rajasekhar, NTR, Ravi Teja, Prabhas, Siddardha, etc. The heroines include Vani Sri, Jaya Sudha, Kushboo, Suhasini, Tabu, Trisha, Shriya, Genelia, Anu Mehta and many others. That's not all top politicians like Chandrababu Naidu, Jana Reddy and Suresh Reddy also attended the function. According to reports the proceedings of the marriage were telecasted on LCD screens too.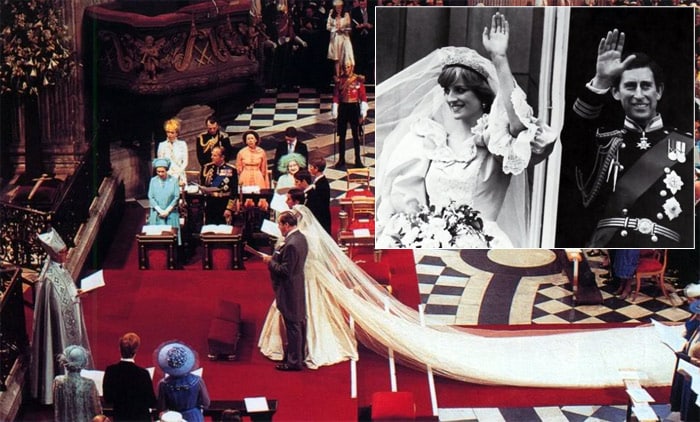 Prince Charles and Lady Diana: When Prince Charles and Lady Diana got married a crowd of almost 600,000 people gathered on the streets of London to catch a glimpse of the royal couple. According to reports, there were around 3,500 guests and an the estimated TV audience was of 750 million.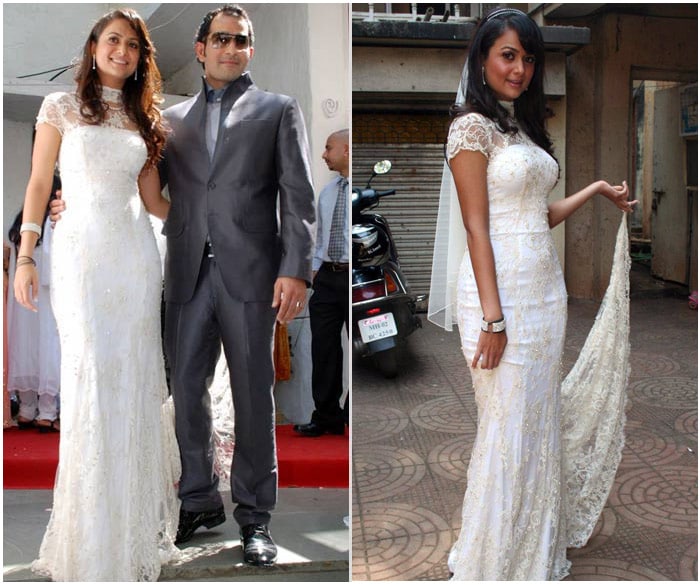 Amrita Arora: Actress Amrita Arora's wedding functions lasted for over four days. The guests included her sister Malaika Arora Khan along with Arbaaz Khan, her best friend Kareena Kapoor and her boyfriend Saif Ali Khan, Salman Khan, Katrina Kaif, Karisma Kapoor, Raveena Tandon and Gauri Khan to name a few. Amrita had a Christain wedding and a Nikaah.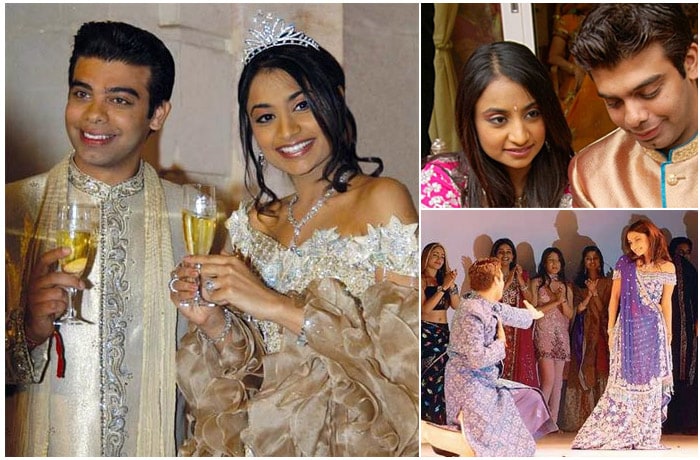 This image has been resized. Click this bar to view the full image. The original image is sized 700x460.

Vanisha Mittal: Steel baron LN Mittal's wedding for his daughter Vanisha Mittal in 2004 made it to the Forbes list of 'Billionaire Weddings'. In fact her Vanisha's marriage to Delhi-borninvestment banker Amit Bhatia was called as the "grandest wedding affair of the century." According to reports $60 million were spent by Mittal. A 20-page invitation in silver boxes was sent out by the Mittals and as many as 1,000 guests were flown in from across the world and they stayed in a five-star hotel in Paris. There were five-days of non stop celebrations.

Australian signer Kylie Minogue performed at the event. And reportd also suggest that women guests received goody bags of jewels at the end of the wedding.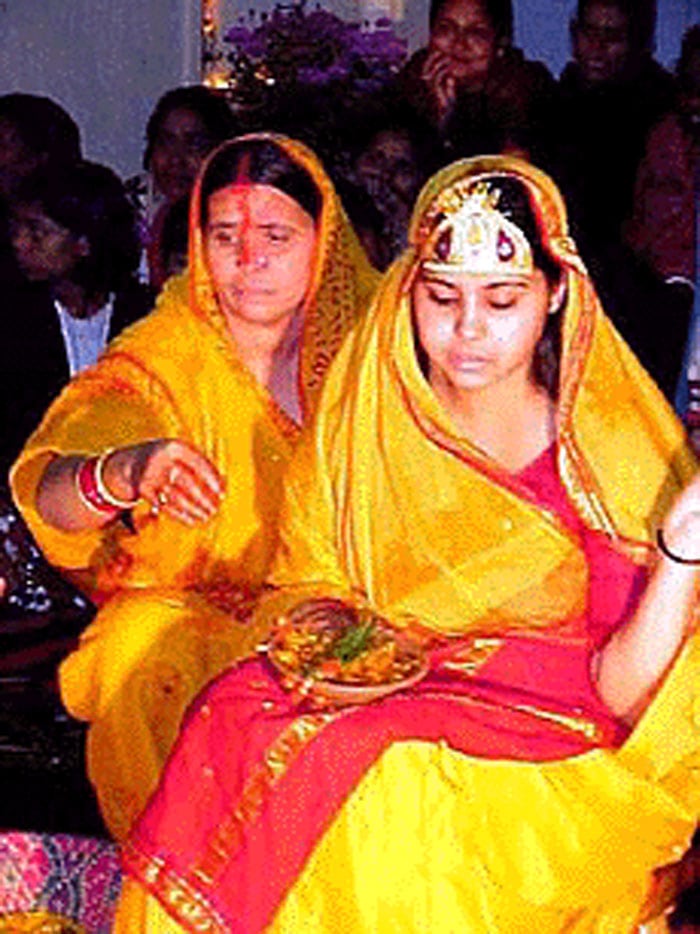 Laloo's daughter Misa: When Laloo Prasad Yadav's daughter Misa Bharti tied the knot way back in 1999 Bihar wore a festive look. A special flight of the national carrier brought most of the senior political leaders of different hues to take part in the wedding. All hotels, guest houses and resthouses in the state capital had been booked for the marriage. Roads and trees near the Chief Minister's residence had been decorated with lamp shades. Hundreds of people from other parts of the state were going round the area to have a glimpse of the marriage of the millennium.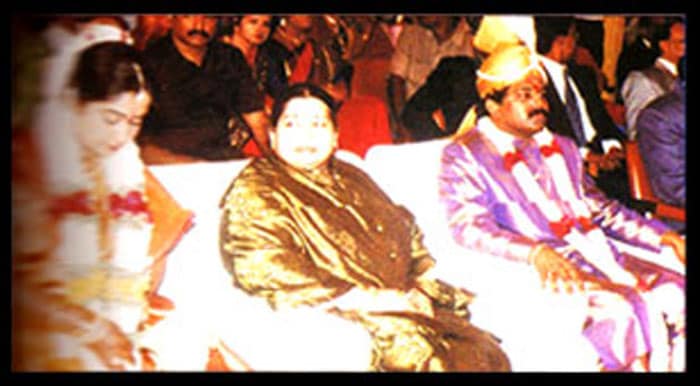 Jayalalitha's son: In 1994, Tamil Nadu's former Chief Minister Jayaram Jayalalitha adopted the nephew of her aide Sasikala and she doted on him. According to reports, she had personally called on actor Sivaji Ganesan to ask for his granddaughter Sathyalakshmi's hand in marriage for Sudhakaran. In September 1995 Jayalalitha herself monitored the wedding, which made national news for its lavishness. There were reports that more than 100,000 people, many of them Jayalalitha supporters were brougtht from villages all across the state for the wedding in special buses. At least 12,000 of the guests sat down for the lunch, which was served by 3,500 cooks and waiters. And days before the actual wedding, Chennai streets were lit up.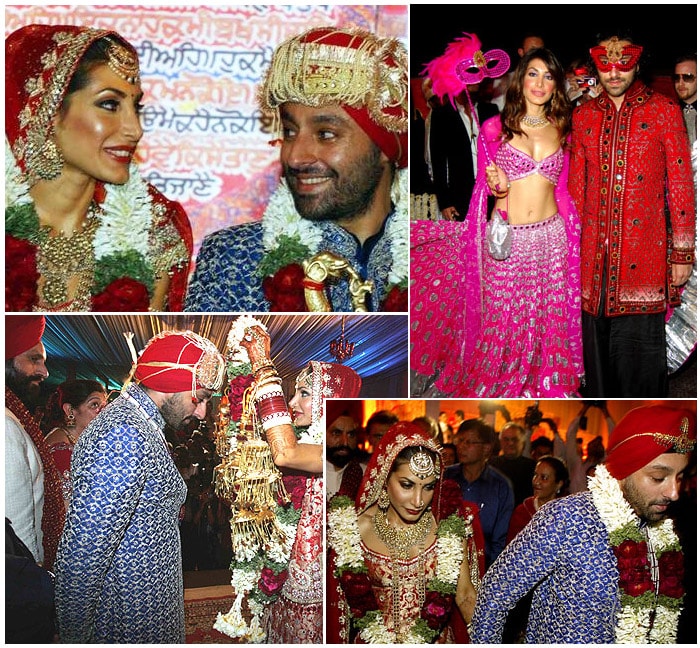 Priya Chatwal: Vikram Chatwal, son of Indian-American businessman Sant Chatwal, was named as the Most Eligible bachelor by BBC. He announced his wedding to Indian model Priya Sachdev in 2005. The multi-million dollar wedding celebrations took place in February 2006. The celebrations were spread across 10 days and three cities, Mumbai, Udaipur and Delhi.Over 600 guests from across 26 countries were brought in chartered planes for the wedding. Some of the biggies who were on the guest list were Lakshmi Mittal, model Naomi Campbell, Patricia Velasquez, rapper P Diddy, HRH Prince Nikolaos of Greece and several Indian celebrities. Former US President Bill Clinton toasted the couple.